Cold outreach works like a charm when you know how to do it right.
For a few years now, cold outreach has been one of the key marketing tactics that helped me find new clients, build partnerships, and even get new backlinks.
Last year, with Hunter's small outreach team (kudos to Antonio and Reizel), we sent 10K cold emails with an average conversion rate of 14%. Some of the cold emails were fully customized and sent manually via Gmail. Others were automated sequences sent with Campaigns.
Dozens of approaches were tried and tested, with hundreds of email copies written. I'll share five key insights I learned last year in this article. They helped us to create cold outreach campaigns that really work.
1. Care about your prospects
If you're not new to cold outreach, you probably heard that in-depth research and personalization are the essential parts of a successful cold email. It's not news, but many of those who send cold emails neglect personalization for some reason.
If you want to send a cold email that converts, you need to roll up your sleeves and do some manual and repetitive research work.
Cold outreach is not easy; it's not about scraping a list of email addresses and sending the same template to all of them, changing only a first name and company name. You won't get any significant results by using this approach.
Instead, you need to know who you contact, why you do it, and have a clear value you can deliver to your prospect.
Let me explain it to you in simple terms. Let's say you built a tool that helps to verify email addresses. There are two approaches to find new clients for this tool via cold outreach:
1.Right approach:
Create a list of SaaS companies that fit your ICP (ideal customer profile);
Check on Ahrefs who from those companies are actively building links to their website (cold outreach is the most popular tactic for link building);
Find decision-makers in these companies (for link building, it would be SEO-related positions);
Find email addresses of decision-makers (you can use Email Finder to automate it);
Find as much relevant information as possible about your prospects to personalize your email copy (for example, you see the company is hiring new Outreach Specialists means that they're scaling outreach efforts soon);
In your outreach email, make the first CTA simple and relevant to your goal (ask what is their deliverability rate for their campaigns or/ and if they verify email addresses for outreach);
Then, based on the answer, pitch email verifier.
2. Wrong approach:
Compile a list of all SaaS companies available;
Find the name and email of the random person working for that company;
Pitch the product right away;
Don't forget to contact your competitors.

Shameless plug: If you don't verify emails for cold outreach for some reason, we highly recommend doing it to reach out to more prospects and keep deliverability on a high level. You can give Email Verifier a try.
Lastly, don't over-personalize cold emails—you don't want to look creepy. You need to keep a healthy balance between basic information readily available to everyone (name, company, position) and something more personal (e.g., checking what comments the mom of your prospect leaves him on Facebook). The last example looks just creepy, so please don't do that.
---
2. Cold outreach is not spam
As a cold outreach promoter, sometimes I encounter the opinion that cold outreach is spam.
Spoiler alert: It's not.
Now, let me explain to you why.
There are two types of people who share positive or negative feedback about cold outreach:
Those who tried many cold outreach tactics spent time learning about someones' and their own mistakes, constantly improving their funnel and running A/B tests. Those avid cold outreach promoters are happy to continue using it and scale.
Those who think that cold outreach is a quick win: you scrape a list of prospects somewhere and send the same template to everyone on your list. It's not a surprise that similar emails may look spammy and deliver poor conversion results.
Cold outreach is called "cold" because someone you contact doesn't know you well. With the first email, you need to make a warm intro and start to build relationships. You can't build anything long-term by sending hundreds of templatized "Hi there" emails.
Here is an excellent cold email Justin from Gravy sent me. I've never heard of Justin before, but after reading his email, I wanted to reply to him to learn more about the solution. The email is relevant and offers to solve a business problem. It's a cold email—not spam. Spam doesn't bring value; cold outreach does.

---
3. Shorter is better
Save time and avoid doing unnecessary A/B tests—the shorter the email, the better.
And there are a few explanations for it:
You're contacting cold prospects. A long email has chances to be read when it is sent by your colleague, partner, or in general, someone you know well. You just need to catch the attention of those you don't know with a short email.
People are busy. The number of emails people receive grows exponentially every year. In B2B, this trend is even more visible. You have a few seconds to grab the prospect's attention, and the chances are much higher when it's done with a short and catchy email copy.
You might have tons of features in your product or dozens of services you provide. However, you don't need to mention them all in a single cold email.
Even if you wrote up an email already that seems very long, remember that every email can be made shorter. Just remove all the extra details, unnecessary greetings ("Hope you're doing well in these hard covid times"), and everything that doesn't provide much value. I bet you can convert your prospects with just three sentences if they're sent to the right person, and obviously, the offer is relevant too.
Keep your email as simple as possible. Often, these three parts are enough to write a compelling email:
Intro (short info about you or an introduction to the problem/topic);
Offer (what you have to offer to solve the problem or provide value);
CTA (single call-to-action that is easy to answer).
Here is an example of an email of a similar structure I used to ask for a backlink from one of the SEO blogs:

---
4. One pitch—one ask
When you contact a cold prospect, there is a simple rule—don't ask for too much in the first email.
If you're in B2B, I bet you receive tons of cold emails daily where the key ask is "let's jump on a call." If you said yes to even 50% of them, instead of working, you'll be talking the whole day.
By asking to "jump on a call" in the very first email of your outreach sequence, you decrease the chance of actually ever talking to your prospect. If you want to do it right, start with a small ask that doesn't take more than a couple of minutes to answer.
You need to catch prospects' attention to start the conversation. Provide value first, then ask for something in return later.
Besides that, don't bombard your prospect with tons of asks or questions. Stick to the rule: one pitch—one ask.
In the example below, Ben asks me a single question: "Would you be open to linking to us instead?"
The goal of his ask is to get a backlink. His question is pretty straightforward, and it doesn't take much time to edit a blog post as he built a truly great tool.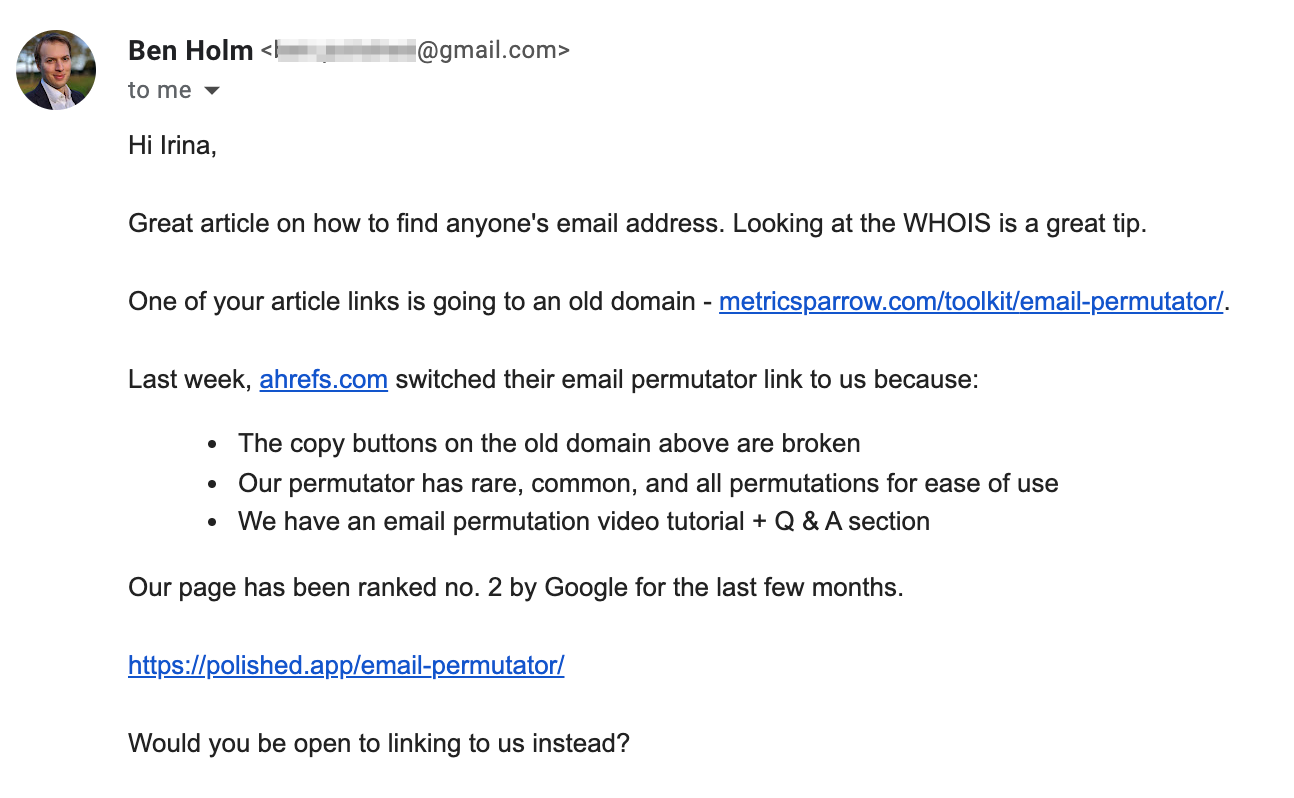 ---
5. Do gradual optimizations
Your campaign is not performing as expected. It happens.
You think of running A/B tests and doing optimization. It's right.
However, before optimizing your campaign performance, you need to first figure out the root of the problem and gradually optimize it.
Let's say you ran a campaign for two weeks now and didn't receive a response. You think there's a problem with the email copy, or subject line, or maybe both.
If you have such an issue, you need to follow the gradual approach and make data-driven decisions.
For example, if you automate your outreach with Campaigns, you should check the performance of your campaign in Statistics.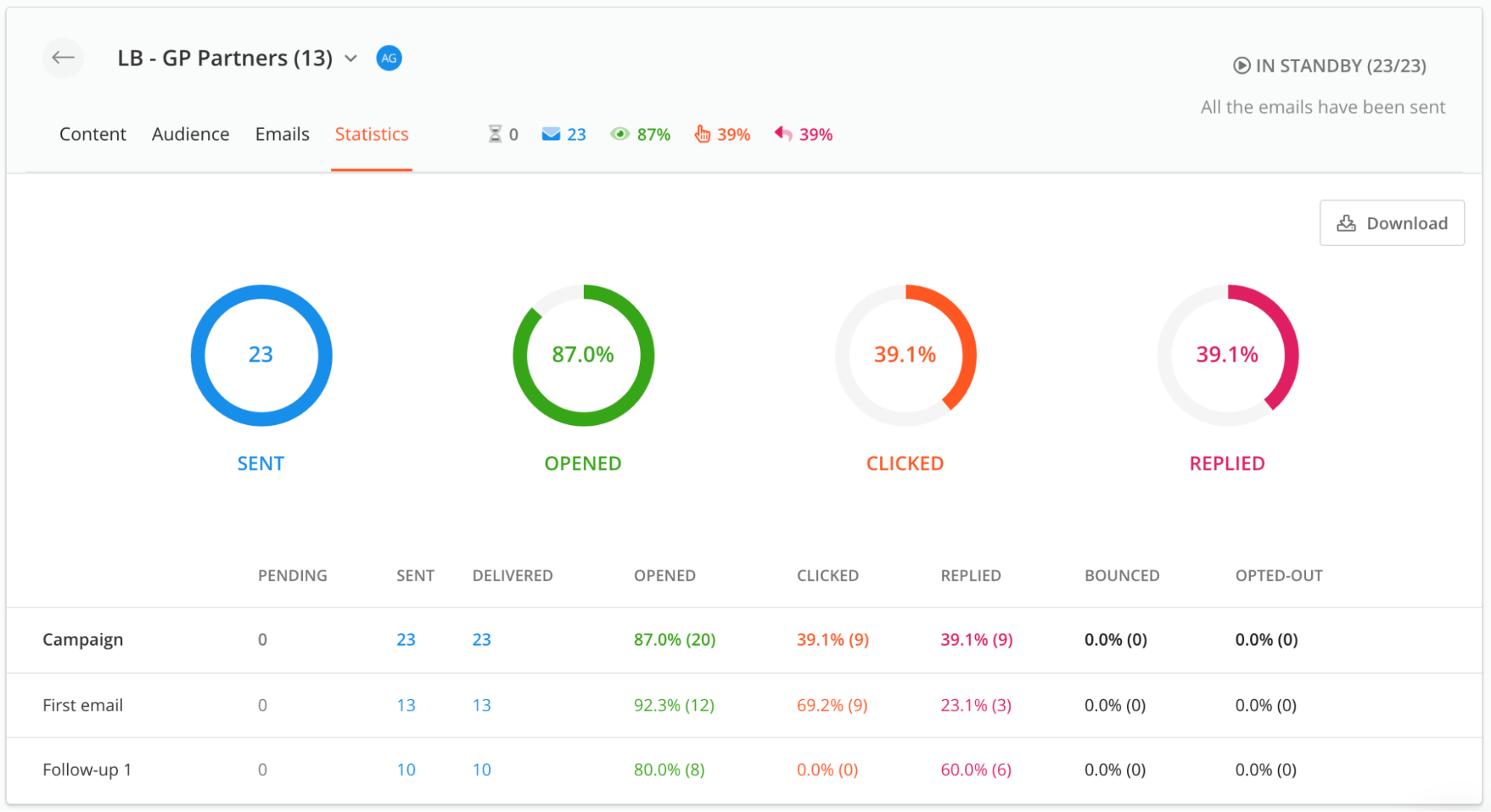 You can follow this simple approach for any campaign analysis:
Check email deliverability. If there are much fewer emails delivered than expected, you may face deliverability problems. If you don't verify email addresses, they may bounce, impacting the whole campaign performance.
All good with deliverability? Analyze the open rate. Probably your subject line is too promotional, lengthy, or spammy. You can optimize it, here're some best practices.
Once you fix the open rate, it's time to focus on email copy. If your fundamental goal is to get a response, make sure you have a simple CTA. Also, double-check if your email provides value and is short enough to read.
Once you analyze and optimize your campaign on multiple levels, you can expect to see the first results soon.
---
Wrap up
If I can give you a single piece of advice based on sending 12K emails last year, that would be to outreach like a human.
Care about the prospect you contact, don't send the same template to all of your prospects, do your research, write in a simple language like you're writing to your friend, and keep email copy short and catchy.